MINExpo International is back for September 13-15 in Las Vegas, Nevada. The team at Minemax will be there showcasing the latest releases of Minemax software at Booth #5635 in the Central Hall.
The most exciting new software technology on showcase will be our flag ship solution for integrated strategic mine schedule optimization: Minemax Scheduler 7.2. This version includes Minemax Haulage technology and is on track to be released in time for MINExpo 2021.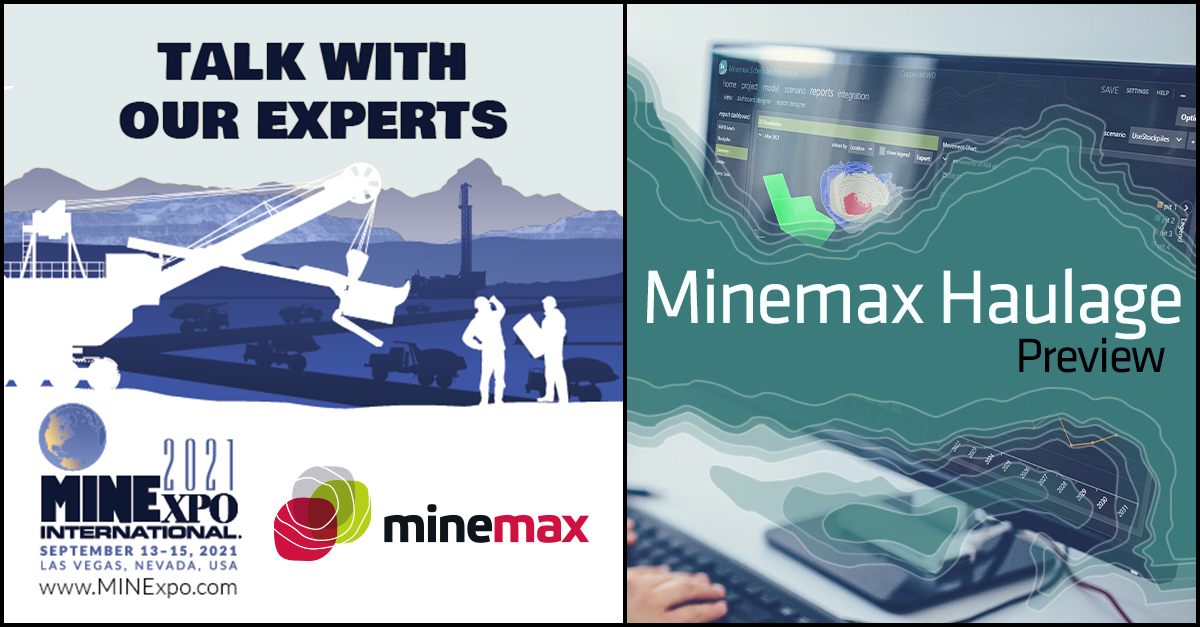 Minemax Haulage will improve your workflow efficiency, giving you more confidence that your trucking requirements are accurately calculated and mapped into your scheduling model, without the reliance on external tools. Logical workflows will guide you through the configuration, so you can leverage all the power of Minemax Scheduler to deliver optimum mine plans considering trucking constraints and any associated CAPEX.
If you are not in strategic mine planning, Minemax still has a plenty to offer for other mine planning horizons. The latest releases of Minemax Planner for rapid pit optimization, Tempo for detailed mine planning and iGantt for open-pit and underground production scheduling will also be previewed at our Minemax booth.
If you would like to schedule a time to meet in person, please contact us at denveradmin@minemax.com. Our team of experienced mining consultants look forward to speaking with you.
If you have not registered, you can register online and find all the information you need about the event.
We look forward to seeing you at MINExpo International in September!