Even the highest value strategic mine plan may not be realistic if the business doesn't have the cashflow to implement the plan while servicing debt. This is why modeling corporate finance in a strategic mine plan is so important for project success and operational stability. Up until now, mine planners have struggled to incorporate the company's financial situation into the mine plan. With the new version of Minemax Scheduler, this is now possible.
Minemax is pleased to announce the release of Minemax Scheduler 7 that brings mine planning and finance together into a single powerful platform. This is  a major, industry-first innovation that closes the gap between corporate finance and strategic mine planning.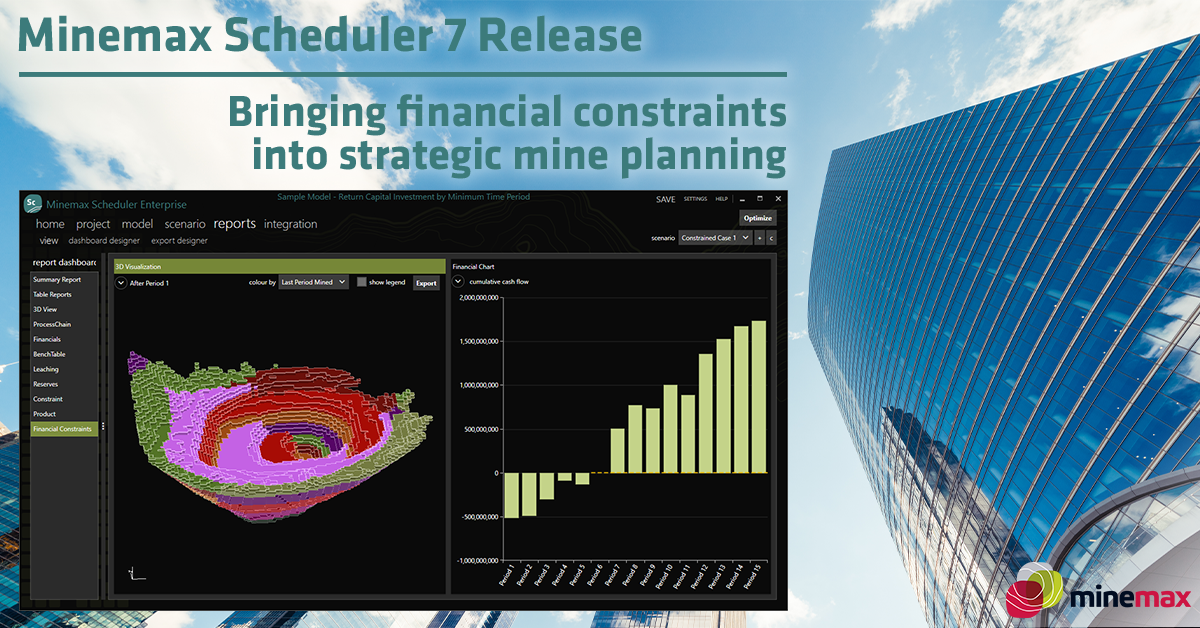 Minemax CEO Jim Butler explains, "Our customers have asked for new types of constraints in Minemax Scheduler over the 20 plus years of the product's lifetime and that has been a big driver for its development. These have included mining and processing quantity constraints, stockpile capacity constraints, blending constraints, produced metal constraints, bench turnover constraints and equipment constraints. What is common about all of these types of constraints is that they are related to the physical operation. They are, and should be, mining focused. However, customers have recently started asking about how they can constrain the financial side of things including cashflow, payback period and capital expenditure. These are a fundamentally different class of constraints. We are very excited to address this market need in Minemax Scheduler 7."
Minemax Scheduler 7 features this new class of financial constraints that allows strategic mine planners to quickly and efficiently deliver high-value strategic mine plans that maximize the Net Present Value and to satisfy a range of financial constraints at the same time. For example, they will be able to develop a strategic plan that maintains a positive cash flow for the entire life of mine in order to provide a buffer for future financial challenges. Another example is a mine plan that ensures that the company's cash reserves never dip below a minimum threshold.
For new mining projects with a credit facility, financial constraints allow mine planners to generate a mine plan that complies with a pre-defined debt repayment schedule. Furthermore, financial constraints give mine planners the ability to control total capital spend.
All maintained and subscribed users can now download Minemax Scheduler 7 through the Minemax Software Manager (MSM) and benefit from this new functionality.
Unsure how to model a particular financial situation in Minemax Scheduler 7? Contact Minemax to discuss it with our mining consultants.
Follow us on LinkedIn for more content on financial constraints coming soon.