Meet our Office Manager Jan Scott who has as a member of the Minemax / Datamine team just celebrated 10-year work anniversary with the company!
"There are several important things that go into running a software business, and many of them happen behind the scenes. Jan's adaptability, friendliness, and organizational skill have kept us operating smoothly and efficiently for over ten years. Jan is always there and available to lend a hand no matter how full her plate is, and believe me it is nearly always full. Her hard work, loyalty, and dedication to the Minemax business are an inspiration to all of us.", said Minemax CEO Joe Kraft about Jan.
We've caught up with Jan for a short interview so you can get to know her a bit better.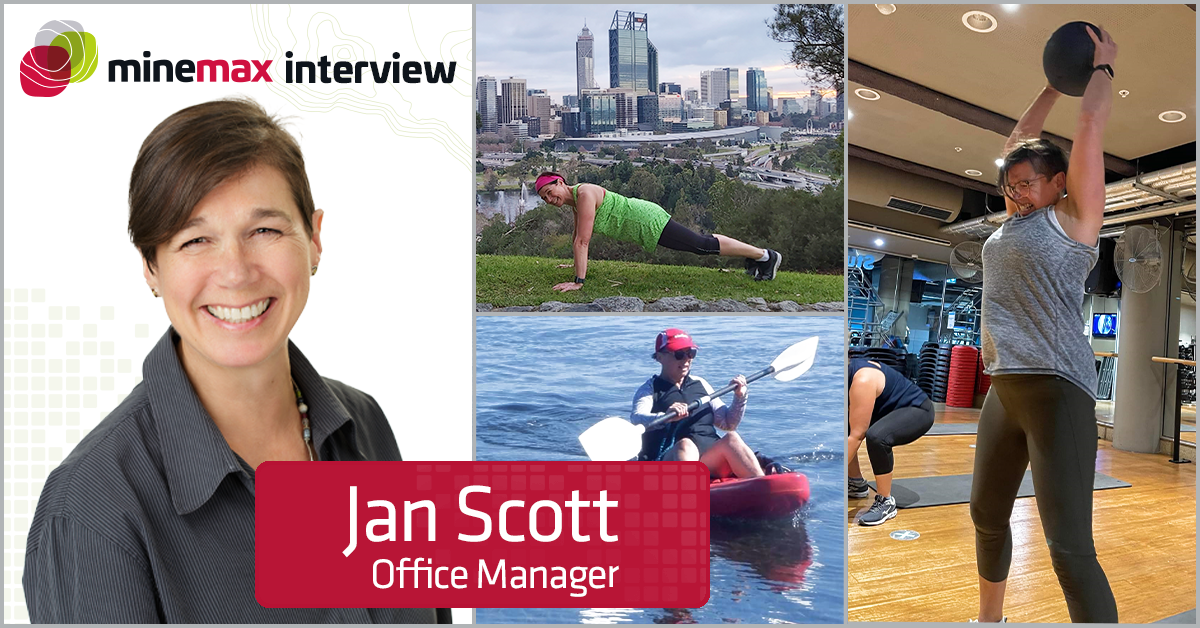 Can you tell us a bit about yourself? And what inspired you to join Minemax?
Born and brought up in a small town outside of Edinburgh, Scotland and first landed in Australia May 1987. Since then I have moved around Australia and lived in Melbourne, Bairnsdale, Batemans Bay and finally back to Perth WA 12 years ago. My son was born in Melbourne and he still lives and works there and we recently caught up in person after 27 months apart due to state lockdowns – was a very teary reunion as you can imagine!
I joined Minemax after I had been made redundant at my previous job. The initial job advert sounded interesting and I was really happy when I was given the opportunity to attend an interview. The role sounded perfect and before I was offered the position I had been offered a couple of other jobs that I had also applied for. I turned them both down hoping that Minemax would offer me the job – so thankfully for myself and Minemax I was offered and I accepted.
It definitely doesn't feel like 10 years ago!!
What is your current role at Minemax / Datamine?
I currently still do the Admin/HR/Finance functions for Minemax but I am now also part of the Datamine APAC Finance Team.
What does your typical day at work look like?
Full on with not enough hours in the day!!
What do you like most about your job?
Personal interaction with clients and co-workers – and anybody else that will listen to me!!
What is the most challenging part of your work and how do you deal with it?
Probably when I have to take on a new process – I tend to find this quite overwhelming especially when still dealing with "normal" daily workload. I recently took over the Datamine Australia payroll function which was exciting to be asked to do.
My current way to deal with any work challenges is to grab a coffee (currently trying to give it up!) and raid the cupboard for some much needed Tim Tams!
What are your interests outside of work?
Weight training, Boxing, Hiking, Kayaking, SUP, Walking along local beach, Catching up with girlfriends for a drink and a natter …
In June this year I will be taking part again in The Push Up Challenge where I will be helping to raise funds and awareness on Mental Health and Suicide Awareness charities – Get in touch with me if you wish to join me in completing 3,139 push ups over 24 days. Or you can help me raise funds for this good cause by supporting "Great Scott" here.
What's a fun fact about you?
I used to be painfully shy!! – Yes – for those of you who work closely / deal with me you would have trouble recognising my younger self – if anybody would speak to me I would blush terribly. Nowadays – well as most of you know – it is hard for me to keep my mouth shut and some of you have found out that I don't have a filter on it either…
Thank you Jan for taking the time to answer these questions and congratulations again on your work anniversary!
If you'd like to connect with Jan, you can reach her here.