Best practice mine planning employs a hierarchical process where the plan at one level is used to guide the plan at the next level of detail. In failing to align operational plans with strategic plans, businesses can incur significant value erosion of their long-term plans. The new Tempo 2.0 has even more functionality to enable you to measure, optimize and communicate plan alignment.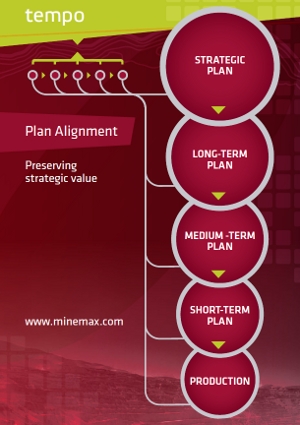 Tempo 2.0 introduces numerous enhancements which enable it to automatically generate NPV optimal plans which subsequently guide medium-term and short-term planning within the same Tempo framework. These include:
Full bench to bench mining constraints
Pit precedence constraints with minimum and maximum lag
Per pit vertical rate of advance
Enhanced web-based plan reporting solution
Tempo is the first mine planning application with the capability to align mine planning across short-, medium-, and long-term horizons. Mining companies can now use a single, easy-to-learn application for mine planning across the all levels of their mine planning process from strategic to operational. Benefits include:
Preserve strategic plan value through plan alignment
Develop standardized, better integrated plans, and
Reduce the time required to develop and modify plans.
Minemax will be demonstrating Tempo 2.0 at SME in Denver February 27-March 2, 2011 and at PDAC in Toronto March 6-9, 2011. Please contact us for more information.