Minemax are pleased to announce the release of a new solution for rapid, high-level project evaluation. The all-new Minemax Planner is a fast, easy-to-use tool that enables businesses to quickly understand the potential value of projects with minimum time investment. It guides mine planners from a block model through pit optimization, nested shells and pushbacks to NPV optimal schedules, rapidly developing optimal strategies for even the largest of models.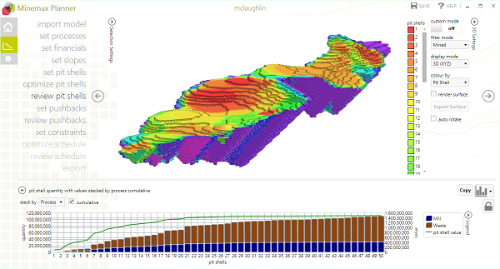 Initial comparisons have shown that on medium-sized block models, Minemax Planner can compute pit shells more than 100 times faster than LG-based tools. It gives exactly the same pit shells, block for block, but much faster. This gives mine planners more time to investigate alternative scenarios.
The user-interface employs step-by-step pre-defined workflows and context-sensitive reports that make it very easy for new users to import models, set parameters, optimize and analyze. Powerful and interactive 3D technology gives a mine planner instant feedback regarding practical mine-ability at each step of the process.
A number of editions are available to cater to the specific needs of mine planners. The Standard Edition covers optimal shell generation and sensitivity analysis, while the Professional Edition continues into pushback generation and NPV schedule optimization. Minemax also offer an academic program for qualifying institutions.
A free demo version is available for prospective users to download.