We are pleased to announce that the next generation Minemax Scheduler will be released at MINExpo INTERNATIONAL 2012 in Las Vegas in September. Extensive development in consultation with industry and users has resulted in the all new Minemax Scheduler Version 6 which is even more powerful and easy to use.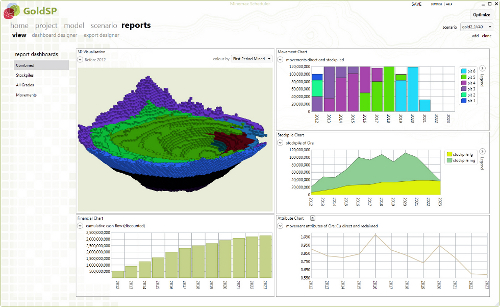 The architecture has been re-engineered using SQL Server database technology to store and manage schedules, resulting in simplified project and scenario management. Multiple product editions are now available to enable planners, managers, and executives to easily interact, share schedules, and make coordinated responses to schedule changes.
Reporting has been greatly enhanced with the addition of user-defined dashboards, a facility for comparing multiple scenarios and a reporting framework which interfaces to Word and Excel. A free Viewer edition allows anyone to inspect a schedule and its associated reports.
Scheduler's user interface has been completely redesigned using Microsoft's Windows Presentation Foundation for a fresh new Windows 8 look. The intuitive workflows provide for natural progress through the scheduling process.
Building upon Minemax Scheduler's industry-proven optimization capabilities, Version 6 now comes with 64 bit optimization to support larger scheduling problems. Additionally, the incorporation of parallel optimization technology helps users generate scenario schedules much faster.
For those of you who will be attending MINExpo, we would love to see you at our Stand 4610 to show you all the new features. For our Australian friends, we will be having a launch event in Perth later in October. We will keep you informed about the details of the Australian launch event.