Modern mine planning is executed in the context of the whole of business value chain. Fleet, stockpiles and processing can impose constraints which impact mine production. Tempo 1.4 allows you to easily define these constraints and include their effects in an optimal mining schedule. Traditionally each stage in the business chain would be planned and optimized individually. Tempo 1.4 allows you to more completely model the business process and allow for the interactions between the stages.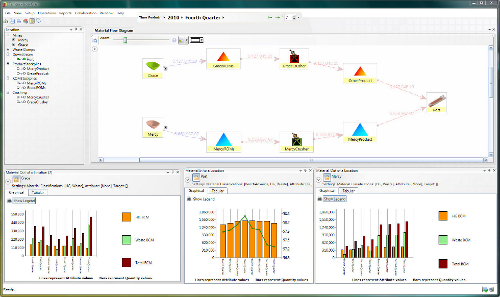 The graphical material flow layout in Tempo makes it easy to set up both intermediate and final product stockpiles. Tempo is the first mine planning application with the capability to align mine planning across the short-, medium-, and long-term horizons. Mining companies can now use a single, easy-to-learn application for mine planning across the all levels of their mine planning process from strategic to operational. Benefits include:
Develop standardized, more practical and better integrated plans,
Cut down the time required to develop and modify plans, and
Reduce the total cost of ownership.
Please contact us for more information.