SME 2018 runs from February 25th to 28th at the Minneapolis Convention Center. The Minemax team will be at Booth 2132 showcasing the latest developments in our integrated mine planning solutions as well as giving a technical presentation.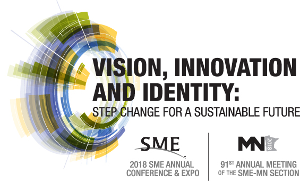 Visitors to SME can drop by our booth to learn about:
If you want to see how mine schedule optimization technology meets the demands of practicality in mine planning, you won't want to miss our technical presentation on Monday, February 26 at 3:25 pm in Room 101C  given by Joe Kraft and Richard Diaz.
Title
"Practical Application of Schedule Optimization Technologies in Today's Complex Surface Mine Environments"
Abstract
Mine planners are increasingly charged with evaluating a number of downstream alternatives in order to inform the most appropriate operating strategy. Examples of these alternatives often include assessing dynamic options for pit backfill, leveraging the encapsulation of certain waste material types, accommodating limitations on land access, and fulfilling requirements for tailings dam material delivery. Each of these common surface mine situations presents a unique opportunity to leverage optimization to uncover value for the operation by incorporating these beyond-the-pit decisions at the same time the mining sequence decision is made.
If you can't make it to the conference, you can always contact us for a quick online or in-person demonstration of our latest new releases.