Pre-7.5.0 versions of Minemax Scheduler Professional use Microsoft SQL Server 2012 LocalDB databases to store project data. These databases are stored within a local projects repository (local folder) that is configurable under settings | system.
Minemax Scheduler Professional 7.5.0 (and future versions) uses a newer version of SQL Server, namely Microsoft SQL Server 2022 LocalDB.
When a pre-7.5.0 repository is opened in Minemax Scheduler 7.5.0, all the databases within the repository are automatically upgraded to SQL Server 2022. Once this upgrade occurs, the databases can no longer be opened in a pre-7.5.0 release of Minemax Scheduler.
Repository Upgrade Prompt
When you first open Minemax Scheduler 7.5.0, you will be prompted to create a new repository for your projects. During the creation of this new repository, project databases from your existing repository are copied to the new repository thus leaving the old repository untouched so it can still be used in older versions of Minemax Scheduler.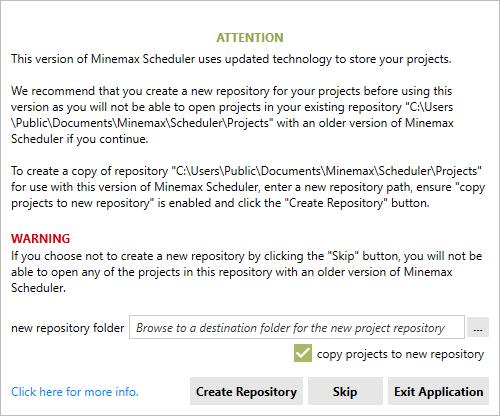 Create Repository
To create a new repository for Minemax Scheduler 7.5.0:
Click the … button and browse to the path (folder) of the new repository.
If you would like to copy all projects from the old repository to the new repository, ensure copy projects to new repository is enabled.
Click the Create Repository button to create the new repository and optionally copy all the project databases in the old repository into this new repository.
Skip
To skip the creation of a new repository and use the existing repository with Minemax Scheduler 7.5.0, click the Skip button.
WARNING. If you choose not to create a new repository by clicking the Skip button, you will not be able to open any of the projects in this repository with an older version of Minemax Scheduler.
Exit Application
Exits Minemax Scheduler immediately without creating a new repository or upgrading the old repository.