Minemax is pleased to announce the release of Minemax Scheduler 7.0.4 that brings advanced scheduling into the cost-effective Lite Edition. This will allow Minemax Scheduler Lite users to model various strategic decisions, previously exclusive to Minemax Scheduler Professional users.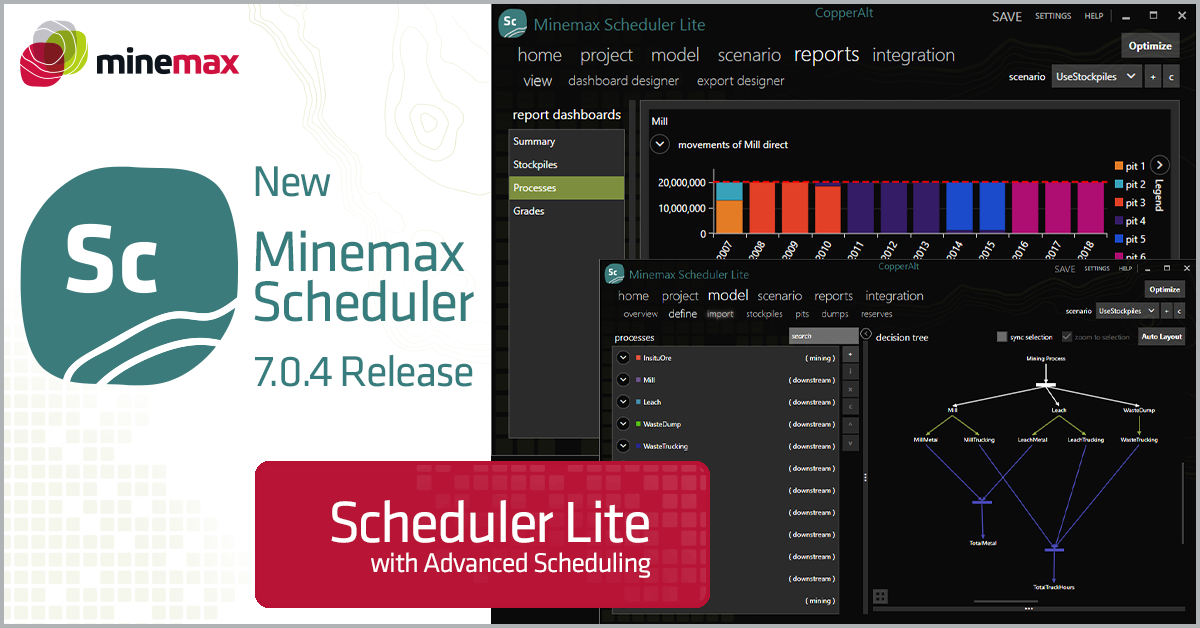 With this added capability, Lite users will be able to model more complex mine planning environments.  For example, these include modelling multiple processing plants, deciding optimal material paths to various alternative destinations, and determining the optimal cut-off grades.
In all instances, Minemax Scheduler's scheduling engine analyses these decisions together with the extraction sequence, haulage, stockpiling and blending to generate a plan that honours all constraints. This gives mine planners a very powerful tool that evaluates numerous scenarios for their strategic mine plan, all within one single optimization run.
Minemax CEO Joe Kraft explains, "We are very excited about this new development in Minemax Scheduler. With this version, we are making the premier strategic schedule optimization software more accessible to a range of budgets. This product is a must-have for any mining business seeking to achieve maximum value from their mine strategy."
In addition, Minemax Scheduler 7.0.4 includes functionality and efficiency enhancements in pit/dump group definition, 3D visualization, and reporting.
With respect to performance, the previous CPU core limit has been removed from Minemax Scheduler's optimization engine, which can now utilise more CPU cores than before. This may result in faster solve times for projects, allowing planners to achieve more in less time.
Minemax Scheduler 7.0.4 is now available for all maintained or subscribed Minemax Scheduler users through Minemax Software Manager (MSM)
For more details on this new release, contact our mining consultants who are always happy to discuss any specific requirements.