Come and see what's new from Minemax at the Austmine 2019 Mining Innovation Conference and Exhibition from May 22nd to 23rd at the Brisbane Convention & Exhibition Centre.
This year's theme Mining Innovation: The Next Horizon promises thought-provoking conversations with industry leaders around the future of the industry.
Minemax is contributing to this dialogue by showcasing our recent development in the area of integrated mine planning – closing the gap between the levels of mine planning by translating the value of your strategic plan into a workable detailed plan. Come and join the conversation with Minemax at Booth 30 and see how this works with our Minemax Scheduler and Tempo mine planning solutions.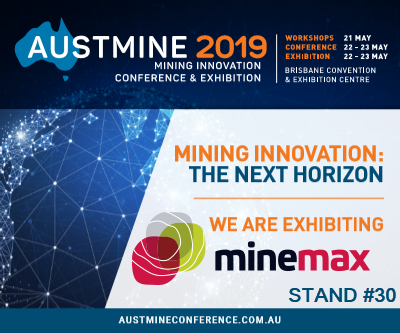 Our newest innovation will be on display also. Minemax Haulage gives you the ability to calculate cycle times as a part of your detailed scheduling process. The result is integrated scheduling and haulage in one seamless workflow. Haulage technology is currently available in Tempo for detailed mine planning, and there are also plans to incorporate Minemax Haulage into Minemax Scheduler for strategic mine planning.
Other Minemax Next Horizon innovations include Dark Theme options in Tempo and Minemax Scheduler to reduce eye strain or fatigue, and the game-changing BZ-based scheduling engine that drastically reduces solve times for large mine schedule optimization problems. Stop by Booth 30 to see the potential of these technologies.
We're looking forward to the opportunity to meet you and to hear about the particular mine planning challenges you're facing.
Not going to Austmine 2019? You can always get in touch for a quick online or in-person demonstration with one of our mining engineers, or download the most recent Tempo Demo with Integrated Haulage to check out the latest innovation for yourself.