Meet Chris Spurling, a highly valued member of the Minemax team, who has just celebrated 10 year work anniversary with Minemax. Chris is a driven and talented software architect, and one of the dominant minds behind Minemax software for the last decade. He leads our Software Development Team, managing all aspects of software production from planning through to design, development, testing and deployment. He is known as an excellent planner, clear communicator, and a challenge conqueror.
With his extensive domain expertise in mine schedule optimization, Chris clearly understands the many dimensions involved in these problems.  He is particularly talented in his ability to cleverly design modern software that is both flexible and easy to use.
We caught up with Chris to ask him a few questions so you can get to know him a bit better.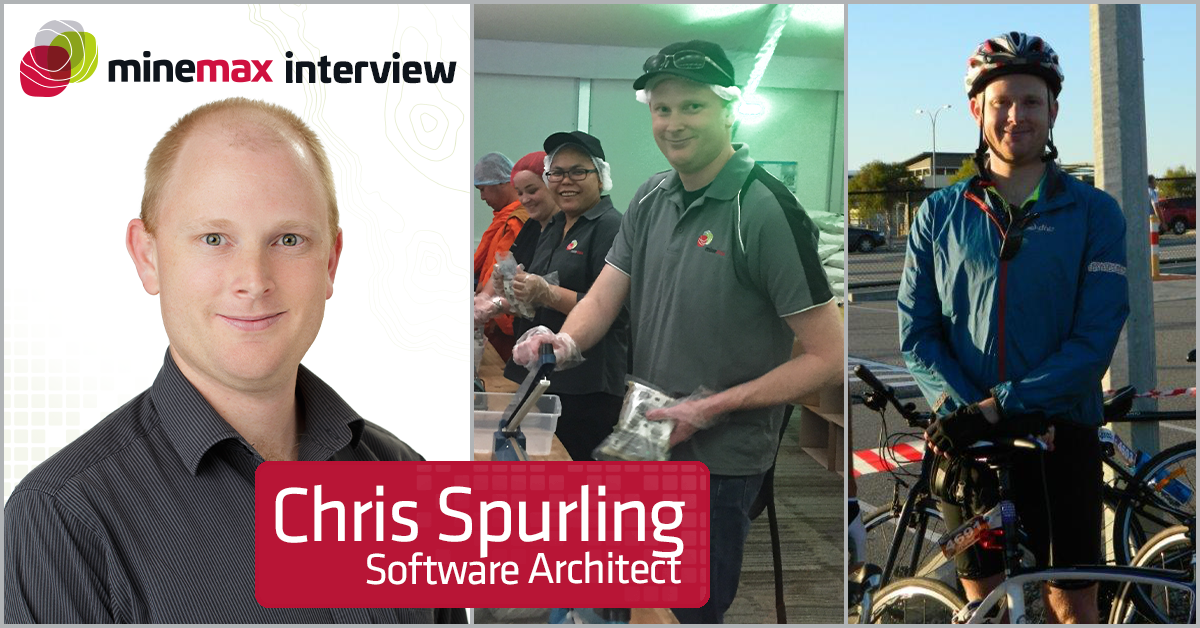 Congratulations on your 10 year work anniversary Chris! What drew you to Minemax originally?
During my time as Software Architect for another mining software provider, I developed a keen interest in the mining industry. When the opportunity arose to join Minemax in the role of Software Architect and lead the development team in redeveloping Minemax Scheduler, I didn't hesitate in applying. Luckily, I was chosen for the role and the rest is history.
What is it like to lead the software development team at Minemax?
Our team consists of hard working, dedicated and talented individuals who have all been with the company for just as long as I have. With such an experienced team, I don't have to spend time micromanaging, which enables me to focus my efforts on software engineering.
What do you like most about your job?
Not being siloed to software architecture which tends to happen in large software companies. I'm involved in all areas of the software development lifecycle while also involved in other aspects of the business including IT, End-user Support, Marketing, Licensing and Sales Support.
What is the most challenging part of your work?
I would have to say, managing feature requests from customers and their expectations. One of the challenges with providing off-the-shelf solutions is ensuring features requested by customers are designed and implemented in a way that benefit all end-users.
How has your industry changed over the past decade?
There has been a significant increase in R&D within the mining industry over the past decade. We have seen this with the replacement of algorithms that have been used for 30 years with far superior alternatives. The quality of the solutions available has also dramatically improved due to increased competition.
What experience has most impacted your career?
The dot-com crash during the early 2000s. It occurred not long into my first software developer job out of university. The company I was working for at the time, went from over 50 employees down to 5 within the space of a few months. With such a big cut in staff, I was thrown in the deep end and involved in the day to day running of the business. It gave me exposure to what it takes to operate a business which a typical software engineering role would not have provided.
Any random facts you could share with us?
Did you know that barracking for the Fremantle Dockers for 25 years can lead to male pattern baldness and premature aging?
Thank you Chris for participating in this interview. We wish you all the best on your next decade ahead!
If you'd like to connect with Chris, you can reach him here.