One of the many benefits of the new relationship between Minemax and Datamine is the sharing of talent. Ashton Ryan is an experienced strategic mine planning practitioner and a Minemax Scheduler power user.  Ashton carries an array of relevant skills from his previous work with mining companies and consultancies in Australia.  He now deploys these skills in technical support, specialist consulting, and business development functions of the Minemax business.
Without question, the caliber of his technical proficiency, the effectiveness of his communication skills, and his genuine desire to help mine planners conquer strategic complexity, add tremendous value to our clients' businesses each and every day.
We've caught up with Ashton recently for a short interview to get to know him a bit better.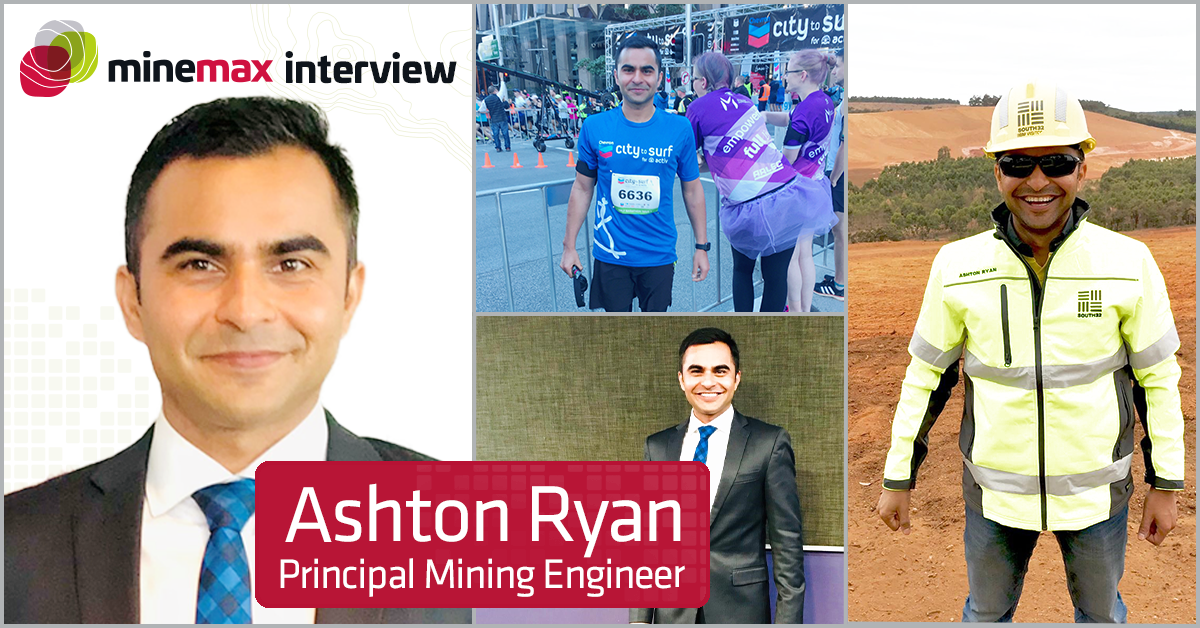 Tell us a little about yourself and what inspired you to join Minemax's sister company Datamine?
Since the beginning of my career in the resource industry I was curious about the big picture or behind the scenes engineering behind the operations. Whether it was the shape of a pit, waste dump or the way a pit was being mined, all seemed fascinating to me. My interest led me to take a role in long term planning and  from there I progressed to Studies. During my time in the Studies team, I grew attraction for the algorithms and software underpinning the entire value chain for majority of decision making. There were so many ideas, functionalities, and enhancements I wanted to see manifest in the tech for resources industry. I was lucky to have been a user of Industry leading software providers Datamine and Minemax for a decade.
It was a no brainer to become part of the team when the opportunity arose and make a real difference in the way decisions are made for the resources industry.
What is your current role at Minemax?
I am based in Perth and work as a Principal Mining Engineer at Minemax. I help client with their strategic mine planning problems. Whether it's a support query or consulting project I treat both with same priority to deliver results and realise the highest value proposition from their operations.
What does your typical day at Minemax looks like?
Most days I start with absorbing the day's development in the Denver office during their work hours. I find myself engaged in consulting jobs more often. Therefore, most of my time is spent in problem solving. I also engage with new and prospective client on a regular basis. I enjoy interacting with diverse group of people from variety of cultures and backgrounds.
Overall, no two days are same at work and there is always something new I learn every day.
What do you like most about your job?
I love the variety of problems that we solve on a regular basis. Whether it is different commodities, modelling a complicated operation with thousands of constraints, or modelling out of box things like comparison of diesel vs electric fleet for an operation makes my job super engaging.
What is the most challenging part of your work and how do you deal with it?
The biggest challenge I face time and again is the complex mine planning problems that our clients want to model in Minemax Scheduler. It is like a blank canvass open to imagination of the user to model a problem. The variety of problems mixed with flexibility of software tool makes problem solving extremely open ended. It is only limited by a user's capability to model quantitatively. At times a problem can be solved in hundreds of ways and choosing the one that is simple, elegant and nails the objective can be challenging also.
What is still on your wish list for your professional life?
I would like to continue my development in the resources field and take up key roles in the organization.
What are your interests outside of work?
I love to travel (already been to 17 countries and counting) and I hope we all can resume travelling soon. When at home, I am an avid runner, and practice Yoga to counterbalance the damage from running. I also love creative arts including writing and music, and I like to volunteer my time to community or charity work.
Any random facts you could share with us?
Did you know Perth is the windiest city in Australia and the third windiest city in the world. The windiest point on Perth's metropolitan coastline is Ocean Reef. Source : Google ?.
Thank you Ashton for taking the time to answer these questions and for all your commitment to Minemax customers around the world!
If you'd like to connect with Ashton, you can reach him here.